Source: http://projectpowder.outspark.com/guides/trick-quests
To earn tricks that you desire, you must pass the license test quest. By passing this quest, you'll either earn the trick or earn extra experience points for each round you pass.
Beginning a Quest
Edit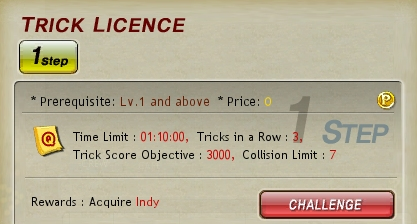 To do a Trick Quest, just click on the Challenge button on the Trick License panel after you have clicked what trick you want to challenge yourself at on the trick tree.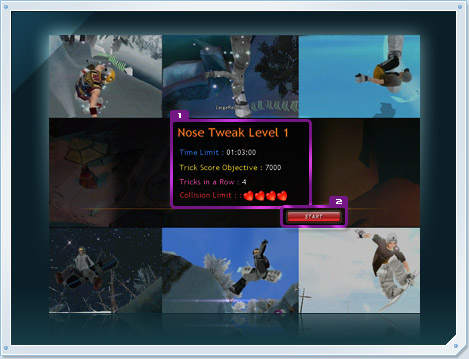 1. Description of the quest Learn the purpose and prerequisites needed to purchase it.
2. Begin quest button When clicked, the quest begins.
Doing the Quest
Edit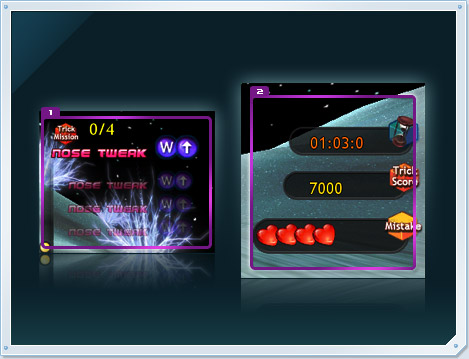 1. Trick Quest Purpose See how to initiate the quest and what you need to do to pass it. Just hit the control keys that the mission tells you to hit in the correct amount of times before the time limit expires.
2. Trick quest prerequisites See your time limit, target trick points, and number of collisions or wipe outs.
Success vs Failure
Edit
This is what we want! :)
1. Screen for successful quest. This screen displays your record and achievements when you successfully pass the quest.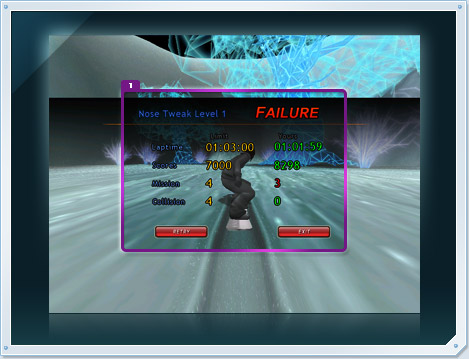 This is what we want to avoid! :(
1. Screen for quest failure. If you fail the trick license that you've applied for, this screen displays your record and detailed information in red text.
2. Retry quest button If you fail the quest, use the "Retry" button to get another shot at the quest without spending game money on the same quest.
However, if you press "End Quest" to exit, then click on the "License Challenge" button from the Trick Tree; you will deplete game money for the selected quest.