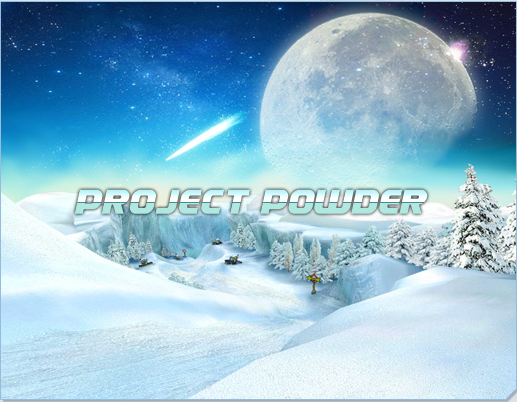 Project Powder is an online multiplayer snowboard racing game with RPG elements. The game will allow players to play in free-for-all or team-based matches, features RPG gameplay elements like leveling up, gear progression, and a robust trick skill tree, and users should keep their eyes peeled for a closed beta announcement soon, as beta slots will be limited.
Project Powder was shut down on Febuary 7th, 2013.
Project Powder has a sister game called SnowBound Online (http://sbo.maxga.com). Is uses the same basic game engine, but hase some more features like the PvP Skill Ladder and more maps. It is in commercial stage, but still a free2play game. Publisher is Germany based company maxga. Since it has more advanced features compared to Project Powder and has more frequent updates, many of the former Project Powder players can now be found in SnowBound Online, which has started global bi-lingual (German and English) service in early May 2009.
Originally Project Powder and SnowBound Online were developed in Korea by Studio Bluecat and published by NHN. Commercial misplanning lead to the bancrupcy of Studio Bluecat. Now Outpark and SnowBound are developing the game by themselves. maxga, the publishers of SnowBound have emploey some lead programmers of former Studio Bluecat. This fact explains the more advanced developement stage of SnowBound.
Project Powder Story
2146 AD
Global warming melted Earth's polar ice caps long ago and winter is a thing of the past. No snow in over a century meant snowboarding was but a distant memory. Motivated to change these circumstances, we began Project Powder.
Our desire to return to that sublime snow was all-consuming, but we had nowhere to go. Until now. The Warp Gate, an ingenious interstellar creation, has enabled us to travel to previously inaccessible points in the galaxy. Virgin planets blanketed in pristine powder beckon as we prepare to embark on the most thrilling snowboarding adventure of our lives.
We, the new generation of riders, compete to make our mark with amazing tricks in these uncharted territories. Join us - Max, Beth and Ross - as we launch our way through the Warp Gates and shred the epic, untouched powder. Amazing prizes are at stake. Do you have what it takes to hang?